Conversation course in Spanish
I am going to live in Spain, will I know how to communicate?
How many people have asked this question and then rejected it for fear of not knowing how to converse with the natives. Thinking of rejection as an option because of not knowing how to express yourself.
It is not easy to know how to communicate correctly with Spaniards or to understand them perfectly, in my Spanish conversation course I explain to you how to be able to dialogue correctly and without fear.

Learn to speak Spanish
Conversation is the most frequent thing in our daily lives, and in fact when you say you want to learn a language to speak, you are communicating the desire to be able to dialogue.
In my course you will work on the fluency of Spanish communication in small groups of couples, so that you will enjoy conversing fluently. These classes will help you to use Spanish in a creative way with debates and monologues.
Two-person conversations in Spanish
I know that learning to communicate in Spanish is a challenge for you and there are no magic formulas. In my classes we teach you perseverance. Being two people you will have the possibility to practice in a more intimate way with me.
We practice in an oral way the key functions of Spanish such as telling your tastes, desires and preferences, achieving a correct dialogue with which you will be able to speak with the natives as one more. But also, this way you will be able to fully understand what they are communicating without having to go to a translator. I not only teach you to dialogue, but also to understand.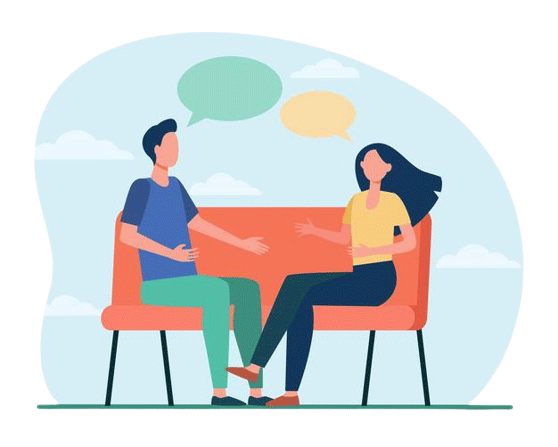 Examples of conversations in Spanish
When you arrive in a new place you often wonder how to get to your destination. But many times you have the conflict of not knowing how to communicate your problem to people, but that's ok, with me and with this little example you will learn without any problem.
-Yes, tell me.
-Can you tell me how to get to the subway station?
-Yes, sure. Walk in that direction three blocks, then cross to the left and you will be in front of the station.
Like in this example, in my classes you will learn many more.
Questions for conversation
With my classes you will learn how to start a conversation. Have you ever felt that you don't know how to break the ice, especially if you meet someone new?
When you decide to learn to speak another language the hardest thing to do is to start a conversation, but don't worry, I will teach you a series of questions with which you will know how to break the ice.
-How are you today?
-How was your day?
-What do you do? What do you do for a living?
-Where do you live?
These are some examples that you will learn in my classes.
Online Spanish classes for practice
With my online classes you will have a better option to improve your level of Spanish when it comes to speaking, plus you will have better listening comprehension skills that will help you with your fluency in life situations.
Do you want to be a native speaker? In this podcast you will learn Spanish expressions that will blow your mind in your conversations.
Besides, who says that you can't work better from your own home. You no longer have an excuse not to try. Conversing in Spanish is not impossible and being able to converse in a language that is not your own is a beautiful and incredible experience. Are you going to miss it?
In my classes you will work in a team and in a collaborative way, putting the focus on you. Your learning and interest is the most important thing for me. At handyspanish I try to make sure that you not only learn but also have fun with it, making it a unique teaching experience. Learn to communicate in Spanish with me. Sign up for my online Spanish classes.
With them you will find:
–Teamwork. You will no longer have an excuse to communicate in Spanish. In my classes you will always have someone to talk to.
–Save money and time. With my classes you will save money on gas and transportation, isn't that great. Plus you won't have to waste time going back and forth, you can teach the class from your home or from your favorite coffee shop, wherever you are more comfortable. You can watch my podcast «Poco tiempo para estudiantes» to learn more about it. Take advantage of it, you won't find an opportunity like this anywhere else.
–Diversity. Isn't it fun to get together with people from different cultures, well with me you can, my classes are open to anyone who wants to learn.
–Eco-friendly. Who hasn't wanted to help the environment, well now you can. With my classes you will help not to pollute with transportation, besides not having to print everything on paper. You will become a friend of the environment, what are you waiting for!
So now you know, learn to chat in Spanish in a fluent and correct way, feel like a native speaker.