The best tapas restaurants in Valencia
There is a series of clichés that come to the mind of any foreigner when you tell them that you are Spanish, a mixture that draws us as very brown people, a bit loud, who take a nap on the beach after having eaten some tapas and paella dressed as a flamenco dancer.
Needless to say, these stereotypes do not correspond to reality. Not all Spaniards take a «siesta», or dance flamenco, and the «arroz con cosas» they eat in some parts of Spain definitely can't be called paella. But they get one thing right: tapas. Ah, our beloved tapas! It's our most precious commodity and national heritage, and if you join us on this tour you'll find out why.

📍 Tapas bar Central Bar in Valencia
Undoubtedly one of the reference bars in Valencia. Why is it so famous? Because all its products are of first quality. The Central Bar is located inside the Central Market, which supplies it with the best raw material: fruits and vegetables of kilometer 0. Excellent products that are transformed into art in Ricard Camarena's kitchen, just look at the look of this cuttlefish!
📍 Titos Tapas Bar in Valencia
Another classic in the world of tapas is the «bocatería Abastos Titos.» Enjoy delicious tapas in the sun on its terrace, facing the Abastos market. Their allioli sauce accompanying their patatas bravas is unbeatable. What can I say about their croquettes, Russian salad and cuttlefish that does it justice… you better go hungry, because you will want to order the whole menu!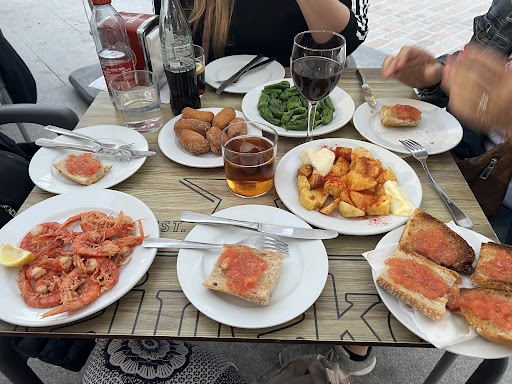 📍 La Alhambra potato omelette bar in Valencia
If you are one of those who enjoy discovering hidden pearls, this is your spot. La Alhambra is an old-fashioned neighborhood bar. One of those with high stools at the bar, with tiled walls, where everyone knows each other and greets each other by name. More than one hipster will have passed by its door without even noticing its existence. But their tortilla de patata will change your life. Recognized as the best in town, they deserve that title and more. Don't miss yours!
📍 Lolitos Tapas Bar in Valencia
Less known and not so central, we can not fail to highlight Lolitos restaurant. In the quiet neighborhood of Campanar, a few minutes from the Bioparc and the Parque de Cabecera, we find this charming bar with a wide variety in its menu and dishes difficult to forget. Among its tapas, the chipirones, boletus croquettes and our favorite, artichokes with ham, stand out.
📍 Tapas bar La Murta vins i tapes in Valencia
ast but not least, we would like to offer you La Murta. It is the ideal place for any time of the day. Do you feel like some tapas to whet your appetite before lunch? Believe me, their potatoes with allioli will leave you wanting more. Is it a nice day and you want a quiet meal in the sun with your friends? Hurry up and get a table on the terrace, guaranteed success. Need a place to dine and want a lively atmosphere, music and good people? La Murta is an emblematic place in its neighborhood, Benimaclet, an area full of life, culture and music.
And I almost forgot! La Murta also organizes cultural events, concerts and theme nights. But don't let it be said that I didn't warn you: if you dine at La Murta, you have to be open to whatever the night has in store for you, Benimaclet is unpredictable!
If you are a motivated student of Spanish and would love to go to one of these restaurants and be able to communicate perfectly with the waiter, who uses colloquial phrases and specific vocabulary, conversation lessons from Handyspanish club are for you.